Bring music to life for your students!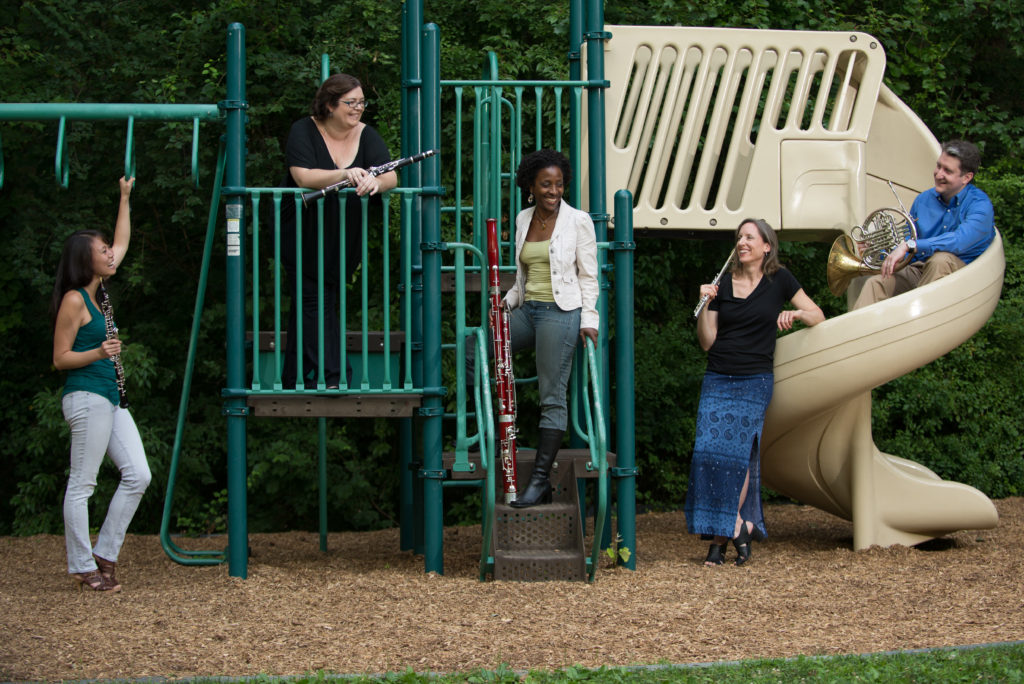 In these fun and engaging presentations, students will
Get excited about classical music
Learn about cultures and composers from around the world
Glimpse the inner workings of the craft of musicians
Educators love these STEAM-based programs that
Reinforce and expand knowledge from general music classes
Expose students to the creative process
Broaden problem-solving skills using musical concepts
Pique students' interest in learning a musical instrument and support school band programs
Develop an appreciation for classical music and the arts
"Thank you for today's wonderful performance. It was fun, instructional, and a real treat to hear live music at school. The students and teachers thoroughly enjoyed all aspects of the program including the introduction to the instruments as well as the music."
– Eileen Langholtz, Enrichment Coordinator, John Eaton ES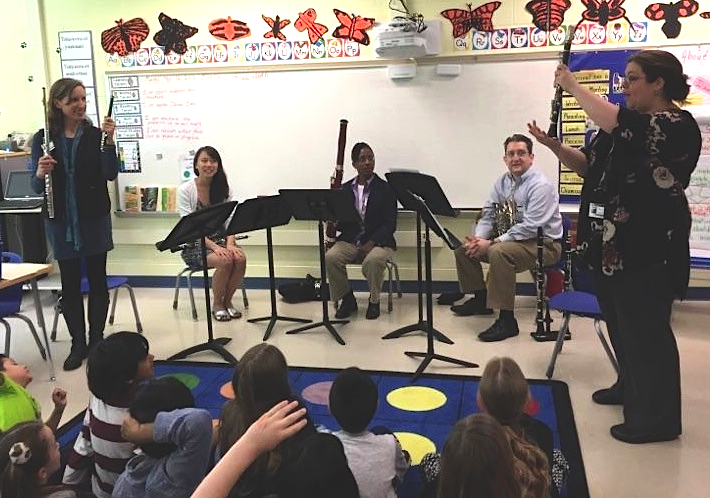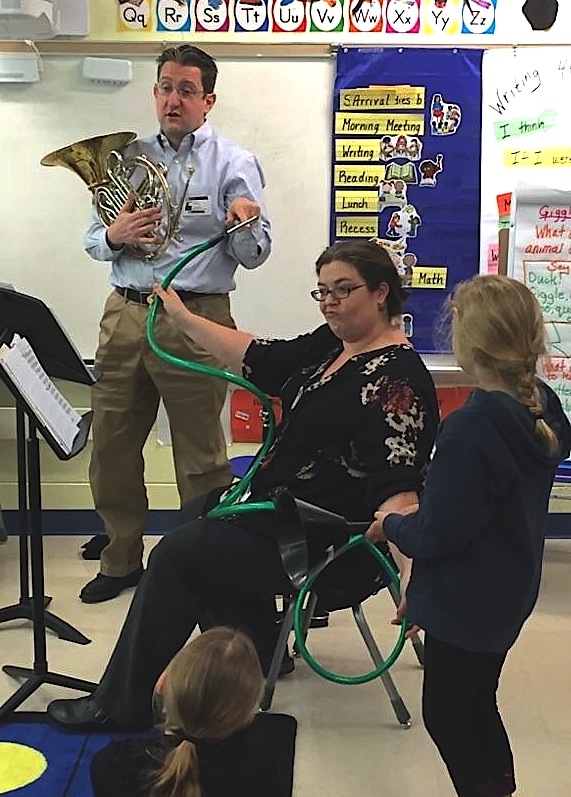 Patagonia Winds partners with the Montgomery County Public Schools as a presenter for the Superintendent's Committee for the Performing Arts.
Please download our flier to share with your PTA Cultural Arts Chairperson, Enrichment Coordinator, or Principal: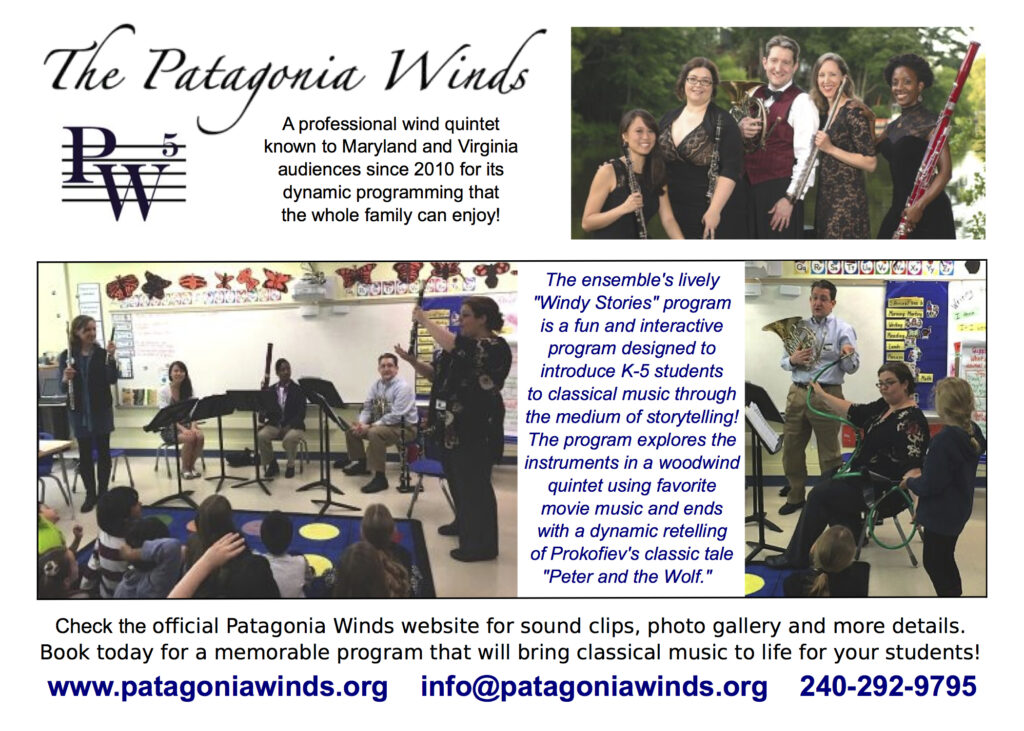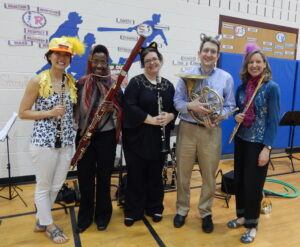 Windy Stories
This fun, interactive program is designed to introduce students (pre-K–5) to classical music through the medium of storytelling! The program explores the instruments in a woodwind quintet using favorite movie music and ends with a dynamic retelling of Prokofiev's classic tale "Peter and the Wolf."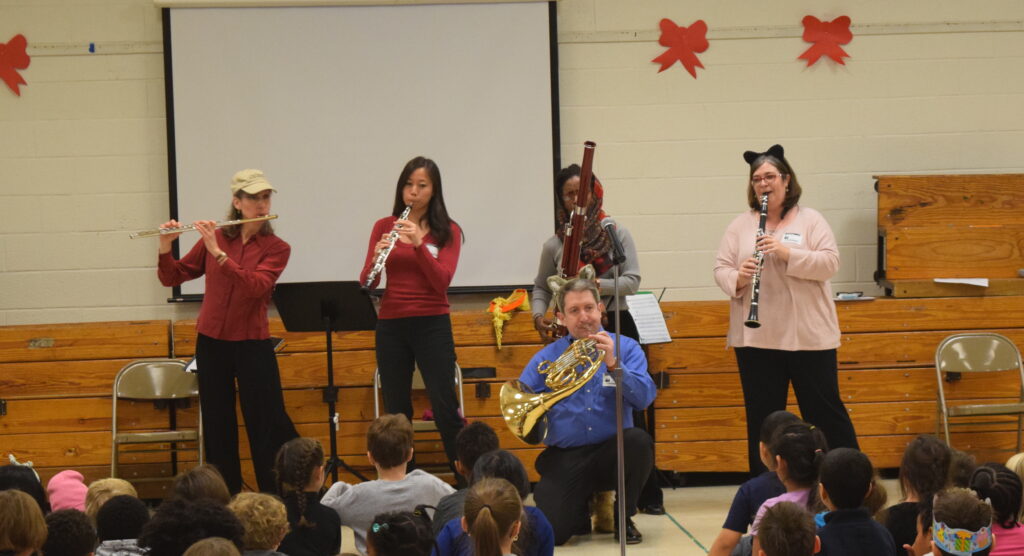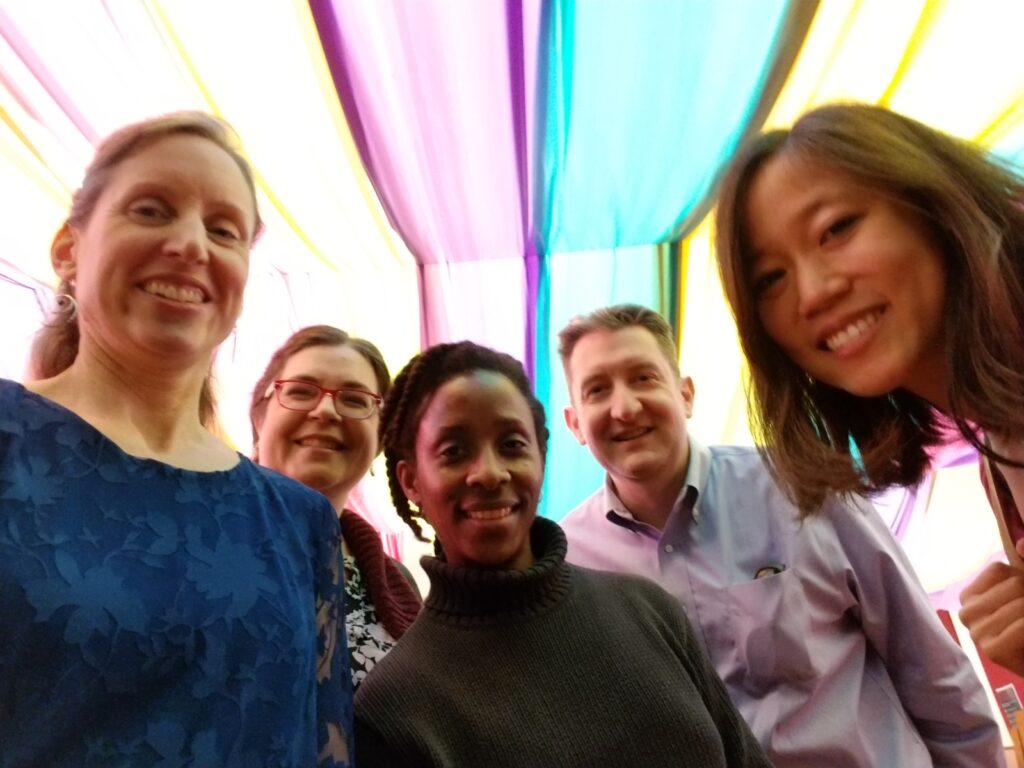 A World-Wind Tour

Pack your bags for an exciting musical and cultural world tour featuring folk tunes, dances and concert music from Mexico, South America, Israel, Ireland, Africa, China and more!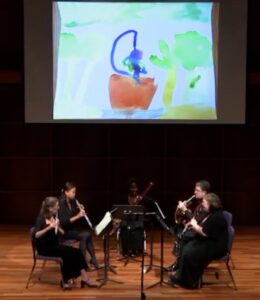 Pictures at an Exhibition
What images does a piece of music conjure? Learn how paintings inspired "Pictures at an Exhibition" by Russian composer Modest Mussorgsky, and experience how music can create different worlds in your imagination!
Celebration

Music infuses fun into special occasions all year long! Get in the spirit with new and familiar tunes for celebrations and holidays from Thanksgiving to St. Patrick's Day, Kwanzaa, Halloween, and others in between! (Program can be tailored to specific seasons)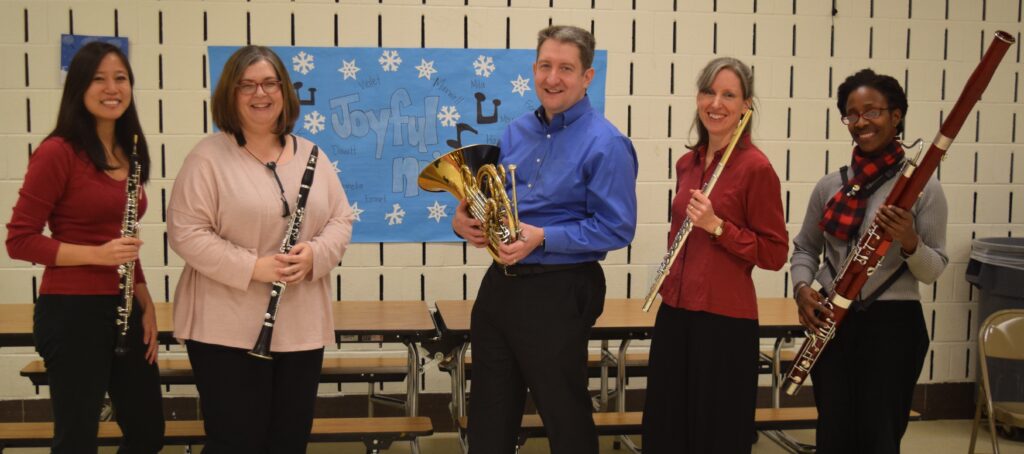 "Thank you again for today! It was such a treat and the kids were completely engaged." – Amanda Harvey, Teacher, Takoma Park ES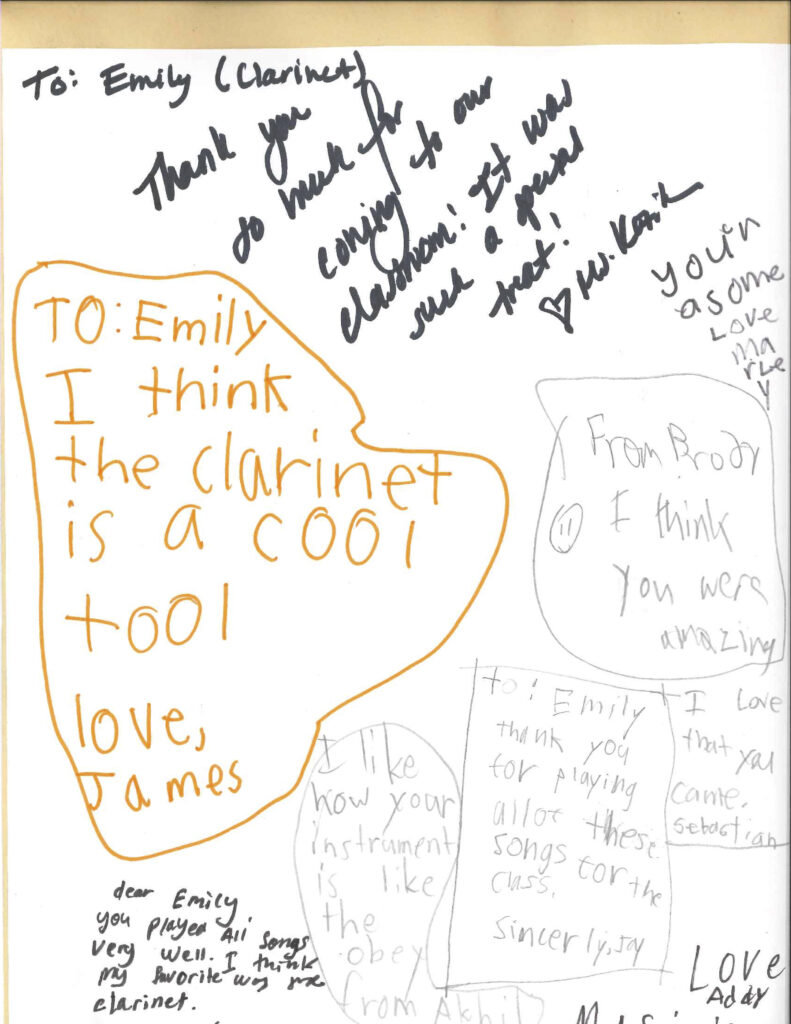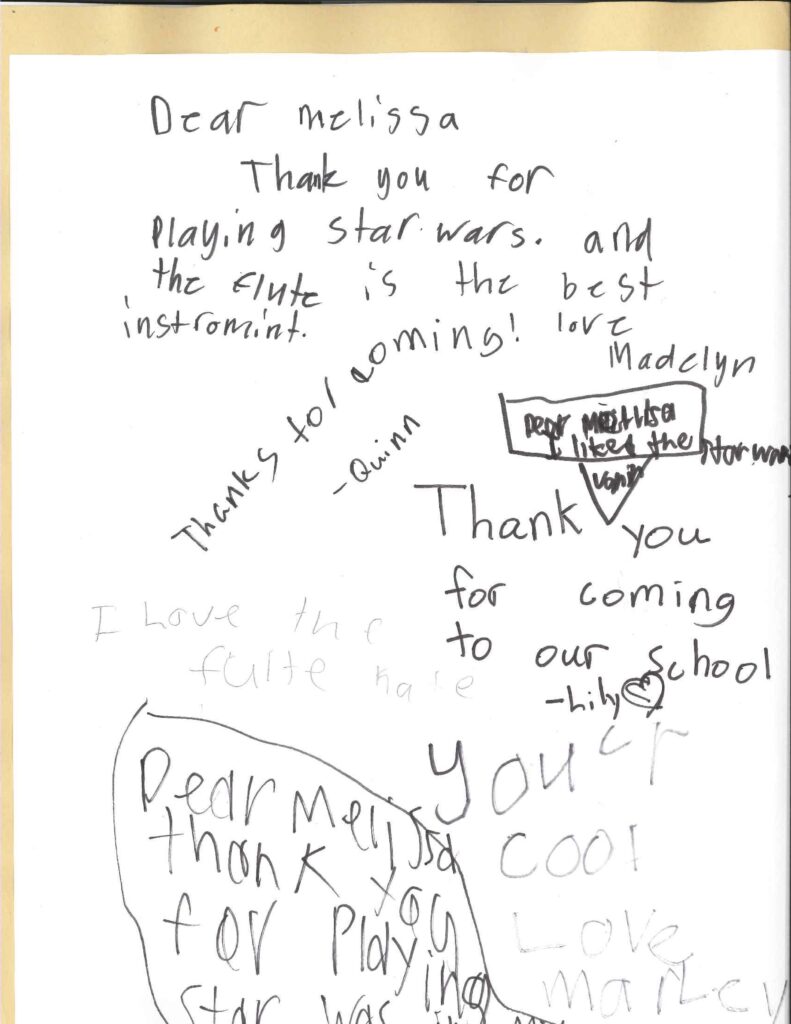 We Can Match Your Needs
Our educational programs include instrument demonstrations and time for Q&A, and can be adapted to various ages and different settings.